Virtual Golf Studio
Ever wanted to play the world's best courses while relaxing in a comfortable and modern environment?  Within Winners Bar and Golf Supplies, we offer the chance for golfers at all levels to play a variety of different golf courses from around the world, play skills-based challenges, work on different aspects of your game including driving and putting.  It is ideal for children and beginners to build up their confidence before going out on a course, and can be used socially with fun games such as Fairground Golf.
Fairground Golf
Foresight Fairgrounds is a series of mini-games, combining traditional fairground entertainment with golf short game skill-building. The games feature challenges of varying skill levels, catering to all levels of golfer from absolute beginners and very young children, right the way through to highly accomplished and professionals.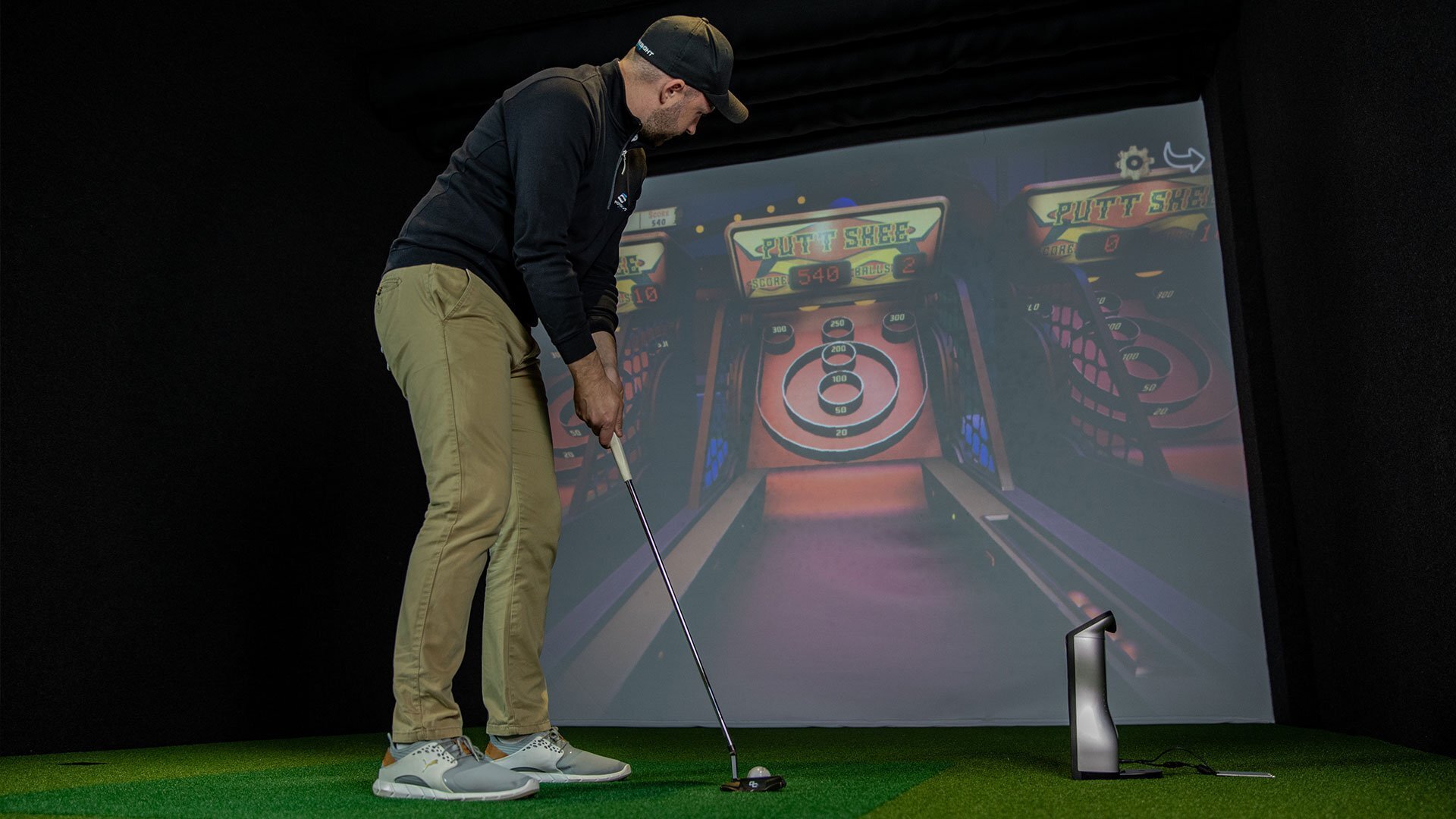 Our Golf Simulator features include:
Foresight GC Quad (as seen on Sky Sports)
Four cameras take 200 pictures as the golf club impacts the ball
Accurately measures where the ball impacts on the clubface
Analysed and accurately reproduced on the screen
Giant screen approximately 12 foot by 15 foot
High-quality graphics showing your represented shot
Easy to use touch screen technology
Play a wide variety of courses from around the world
Nearest to the pin and longest drive competitions
Skills practice including driving and putting
Work on power, strength, and flexibility
Fun games including Zombie Golf and Fairground
Individual or group hire
Ideal for children and beginners too
Lessons and coaching available
Private bookings; birthday parties, corporate and charity events
Prices start from £25 for 60 minutes, with members and residents getting 20% off.
Golf Simulator Frequently Asked Questions
Ever wanted to play the world's best courses while relaxing in a comfortable and modern environment?  Within Winners Bar and Pro Shop at Bryn Meadows, we offer the chance for golfers at all levels to experience the challenge and beauty of a premier venue in a social and interactive setting.
A golf simulator is a system of hardware and software components that track club and ball launch conditions and ball flight then simulates what the ball would have done in the real world in a virtual golf environment.
We have a GC Quad, which includes a projector, computer, touch screen, ball-tracking technologies, golf course software, enclosure, hitting the screen, hitting mat, and all necessary components to accurately track the ball and realistically simulate golf.
The Golf Simulator works using high-speed cameras. Four cameras take 200 pictures as the club impacts the ball and then calculates what the ball is going to do.  They detect the golfers' swing and movement of the golf club and ball, then analysed and accurately reproduced on the screen.
The GC Quad also has the ability to accurately measure where the ball impacts the clubface. After the Golf ball has hit the canvas screen the ball will come to rest on the floor, the computer will then take over and you show your represented shot.
There is not a scale or metric for measuring the accuracy of the real world versus the virtual world.  However, based on years of scientific study and customer feedback, the GC Quad is incredibly accurate.
The GC Quad provides a living, breathing 3D virtual environment.  Customers can enjoy the highest degree of accuracy and real-time rendering in the most lifelike and realistic golf software in the industry.  Trees blow in the wind, waves crash, streams run, and lakes ripple.
Many customers are focused on game improvement and can use it practice swinging or short game using the data analysis.  It can also be used as entertainment, with friends and family.  Also with the opportunity to play courses from around the world.
Own clubs can be used, but Pro Shop staff will need to ensure that the clubfaces are clean and dirt/sand-free.  Demo clubs are available to use if you do not have or want to bring your own.  Only the golf balls provided must be used, and these must not be removed from the premises.  You will hit a real golf ball directly into our simulator screens.  Tees will also be provided.
If you are insistent on using your own balls, these will need to be brand new and a high-quality brand.
Flexibility – it is a very common issue that affects many golfers.  Poor flexibility will limit your ability to get into the correct golf position.  A swing check can identify a swing fault and can identify techniques to improve these within your limits.
Putting – do you spend all your time hitting balls? Do not forget to practice putting.  43% of all golf shots are putts but is rarely trained systematically. At Bryn Meadows, we also have a SAM Putt Lab which offers the most efficient technology to train for ascertainable success.
Strength – a Golf Pro may identify that you are coming out of your posture due to core strength.  There are several ways to improve this alongside a golf technique including enhancing physical fitness.
Pain / Injury – got a new or old injury that at times flares up? Only you will know if you are well enough to play without causing further injury.  However, a Golf Pro can advise on some workarounds.
Power – every player; beginner, weekend player or competitor, is always searching for more power and greater distance.
Golf Simulators have been used to analyse each shot you make providing detailed feedback.  They are better for your game than going to the driving range as it offers precise and accurate flight delivery.
We say it takes approximately an hour for an individual player to play 18 holes.  So, if you have more than one player you would probably want to book an additional hour for each player in your group.  Times will vary based on familiarity with the simulators and skill level.
You can travel the world without leaving Caerphilly, making your bucket list more affordable.  We are always adding to our golf course portfolio.  Some of the most popular courses played on our Golf Simulator are Carnoustie, Royal Troon, Wentworth, and Abi Dhabi.
There are many skill challenges that can be played including different pitch shots, trajectory, shot shaping, and gap sessions including yardage.   For groups, there are fun competitions including nearest to the pin and longest drive
The Zombie Golf game is very popular with children and adults.  Fight the undead horde with your golf club of choice and build your accuracy skills at the same time!  In this battle against the clock, players can choose to either take out approaching zombies or focus their shots on the crypts where the undead are spawned.  Zombie Golf is the ultimate skill-building game for golfers of all ages and abilities.
Lessons all depend on what your flaws are.  Every golfer has them and for some, they are balanced enough in that they can get you around the course.  If you are stuck on the same handicap that you have had for years, or find that you would like to drive more consistently, or need to work on your short game – then coaching may well be for you.  A golf instructor has to be able to transfer his or her knowledge to you in a way that is understandable as well as pass on their experience within your learning style.
There are three professional golfers at Bryn Meadows who can offer golf lessons and coaching.  The highly decorated bunch boasts 10 professional holes in one between them, plus incredible career highlights including Golf Union of Wales Pro of the Year, the first lady to tee off in the WPGA Lombard Trophy, and Junior Sports Personality of the Year.
We tend to be busier evenings and weekends.  Consequently, we do recommend booking your tee time 5-7 days in advance in order to secure your preferred time.  You do need to cancel with 24 hours' notice so you are not charged in full.
Reservations are made by time not the number of holes.  You can either book 30 minutes, 1 hour or more.
For anyone looking to find an available time that day, you can book online. You are also welcome to call or walk in, but we can't guarantee there will be an opening.
A tee time can be booked on our website, or with the Golf Team on 01495 221905 option 2 or enquire with pro-shop@brynmeadows.co.uk.
Members, visiting golf societies and hotel residents get 20% off, off peak.
Please arrive at least 10-15 minutes early in order to provide you with enough time to get changed and get ready for your tee time. We want all players to be able to get their round started on time.
If you arrive late, your session may be shortened in order to accommodate others whose tee times follow yours.
Don't worry, we didn't forget about you. Left-handed clubs are available.  We do have to move the GC Quad for you and reconfigure.  If you are wanting to play with others, it will take additional time.
Absolutely, children under the age of 16 can use our Golf Simulator, however, we ask that they are accompanied by a responsible adult at all times. 
It can.  The facilities are available to hire for different occasions including birthdays, special events, corporate functions, charitable fundraisers, and team building activities.  If you would like further information on these, please speak to our Events Team on 01495 225590 or events@brynmeadows.co.uk
Certainly!  We want to encourage new players to the game.  Just advise us when making a booking that you are a beginner and we can arrange for one of our Golf Pro's to spend a little more time with you.
It is recommended to wear trainers or spike-less golf shoes in the room, and these should be clean and dry.
Food and drink should be kept on the tables provided, and not inside the simulator bays or near the putting green. No outside food or beverage is allowed to be brought in. We will have a full bar, soft drinks, and snack menu available on site.
We provide a safe and enjoyable environment similar to that of any driving range or golf course. Safe swing areas will be defined for your group and rules regarding the number of players.  One player swinging at any time must be adhered to for your own safety and enjoyment.
Children – simulators bring kids to the game of golf and the game of golf to the kids.  It also helps in the winter months when it is too cold or wet for them to go outside.  They can continue their golf lessons and instruction, in a fun environment
Women – the range and the course can be an intimidating place to try to learn, the simulator provides a private, safe environment for women to fall in love with the game.
Climate – so many golfers are lost during the winter months, the clubs go into storage and never come out again.
Pace of play – if time is short, a round on the simulator is half the time of a round outdoors. No more driving up to your ball, or looking for it. The simulator gives golfers more reps in less time, more data, and keeps the game action-packed.
Get in touch
Call or email for all simulator enquiries.