Stay at our luxury hotel
Bryn Meadows is renowned as one of the most luxury hotels in Wales.
Each of our rooms are beautifully finished with Italian furniture and soft furnishings, creating a space that invites you to relax. For a perfect night's sleep, sink into one of our spacious king-sized beds with pure cotton sheets and sumptuous duvets. From the elegant decor to the plush bedding, every element has been thoughtfully designed to elevate your stay in Wales.
Find out more about the exceptional rooms at our Wales hotel.
Premier Suites
Our premier suites are the biggest rooms at the hotel. Featuring a king-sized bed and the option of a sofa bed, these luxurious suites present a generous setting. Suitable for up to three adults or families of four, each premier suite offers an expansive lounge area for added comfort. To make the most of the amazing views, every room is guaranteed two balconies or two patios.
From £169.00 per night, based on two people staying.
Book a room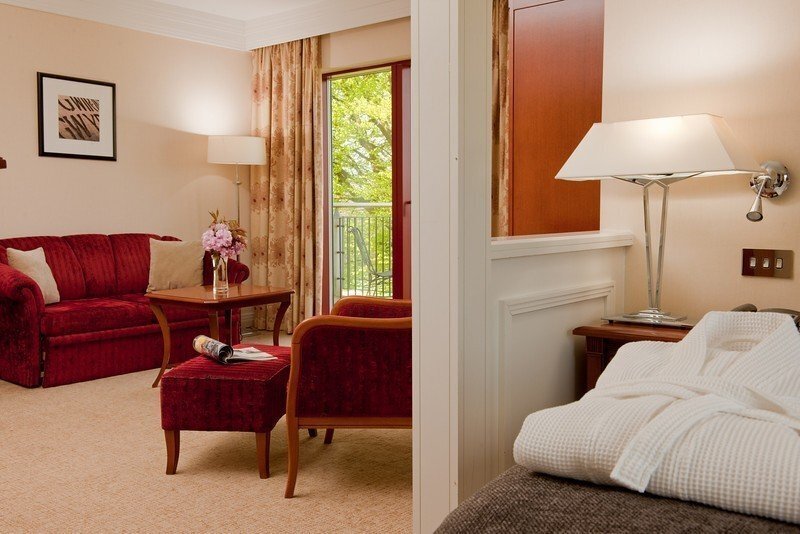 Junior Suites
Our junior suites feature a king-sized bed and the option of a sofa bed. Suitable for three adults or families of four, these suites include a dedicated lounge area for relaxation, as well as a balcony or patio to take in the breathtaking views of the surrounding countryside.
From £149.00 per night, based on two people staying.
Book a room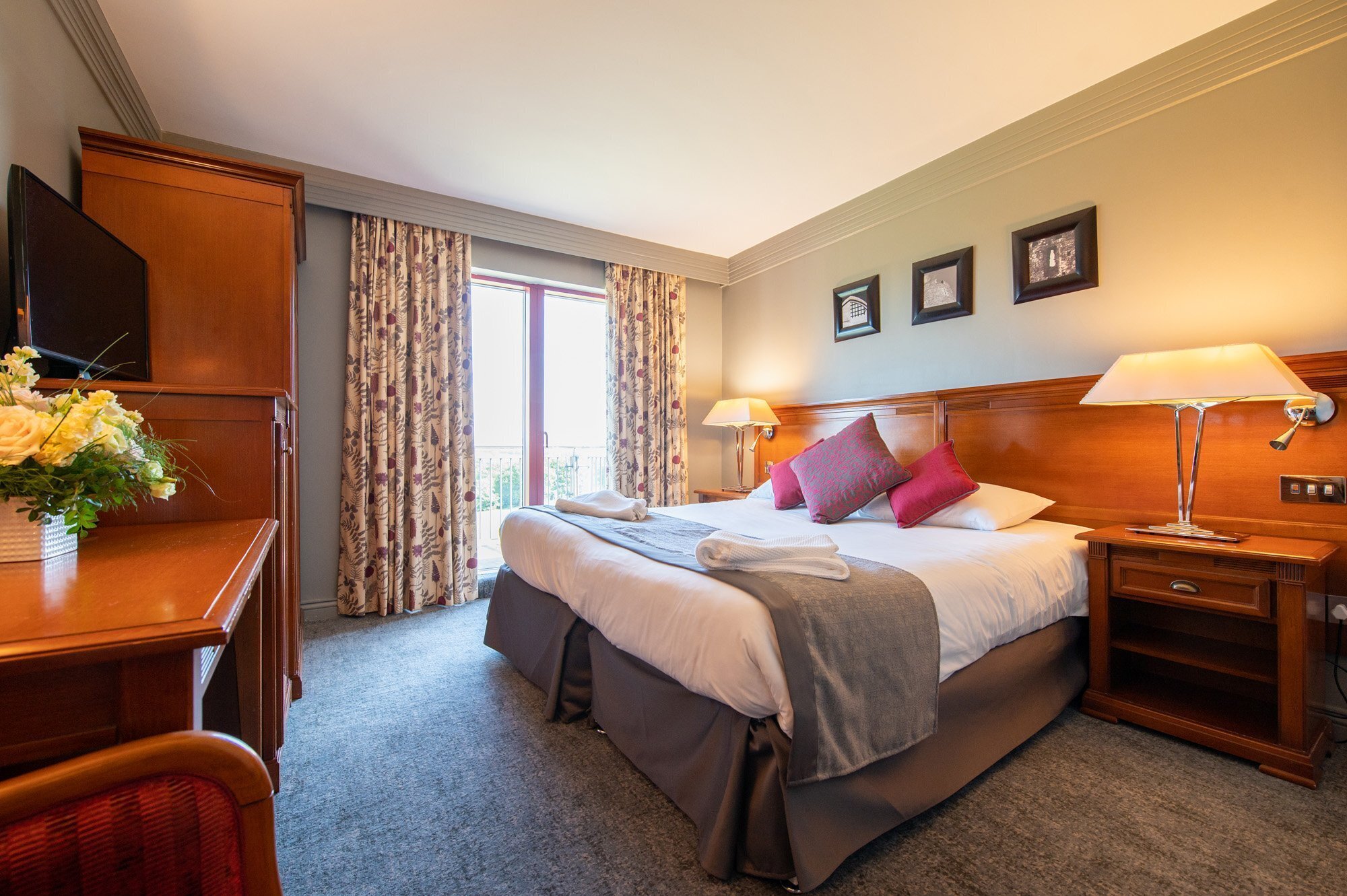 Standard Rooms
Unwind in the relaxed luxury of a standard room, which offers the perfect balance of classic and contemporary design. These ensuite rooms are ideal for a short break, and can be set as a twin on request. Not all standard rooms have balconies or patios, so please check beforehand.
From £119.00 per night, based on two people staying.
Book a room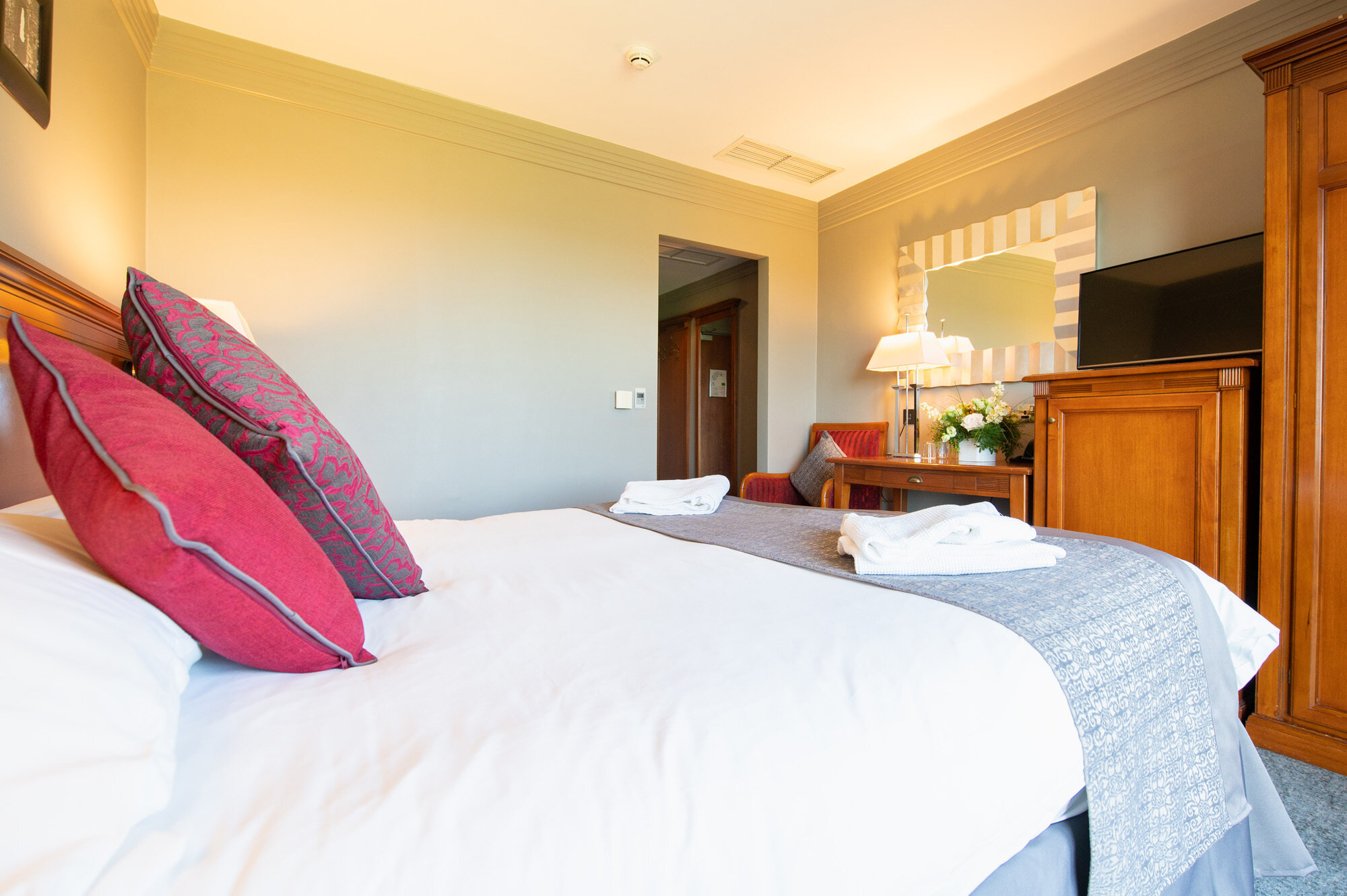 What amenities do we offer?
We offer a wide range of amenities to hotel guests. With a commitment to guest satisfaction, our amenities are designed to provide you with a comfortable and enjoyable stay.
Free wifi
Television
Internet access point
Direct-dial telephone
Air conditioning
Hairdryer
Toiletries
In-room safe
Free parking
Iron and ironing board on request
What facilities do we have?
We have extensive facilities at our hotel in Wales. From relaxing spa treatments to challenging golf courses, our facilities offer something for everyone to enjoy.
Championship golf course
Virtual golf simulator
Boutique spa
Fitness centre
Aromatherapy suite
Indoor swimming pool
Steam room
Jacuzzi
What nearby attractions are there?
Our hotel is surrounded by a number of captivating attractions. Whether you are looking for a rural retreat or an urban escape, our hotel provides access to a diverse range of attractions in South Wales.
For those drawn to the tranquillity of nature, the Brecon Beacons are just a stone's throw away. There are a number of public footpaths within the grounds of the hotel, providing you with the opportunity to enjoy a relaxing walk or embark on a demanding hike.
For those seeking a taste of city life, the Welsh capital is just a short drive from the hotel. There are a range of historical sites to visit, including Cardiff Castle, the Pierhead Building and the Norwegian Church Arts Centre. You can explore the rich history of the capital, before strolling through the shopping arcades in the city centre.
Book your stay in Wales
Stay at one of the most luxury hotels in Wales, with elegant rooms, extensive facilities and a diverse range of nearby attractions. View our availability and book your stay below.