From Monday 30th July until Sunday 5th August 2018, the country is celebrating women in golf.  For women and girls, there has never been a better chance to pick up a club and get involved.  The online campaign has been set up to celebrate the successes of the fabulous female side of the game, in many different roles, and yet again to challenge the misconceptions that still surround the sport.
Awareness of the opportunities within the sport are certainly being highlighted more often, especially with an industry-wide commitment to a more inclusive culture, enabling women and girls to flourish and reach their potential at all levels of sport.
Lady Professional Golfers
We are very proud to have not one but two PGA Professional Lady Golfers on our team.  Katy Edwards, joined the team in 2016 and has many fantastic accreditations to her name including being the first lady to tee off in the WPGA Lombard Trophy and even had a hole in one at the competition.  Tasha Gobey join the team earlier this year.  She grew up in RCT and started playing at 11 years old before turning Pro in 2012.  Tasha has represented Wales Under 18's Team and even won the Wales Ladies Golf Medal in 2016.  Both are very keen to get more girls and women into the game and help break down the stereotypes that surround the sport.
"It is never too late to start, or challenge your perceptions of the game.  Do not let age, your gender or any existing injuries put you off.  It is important to find a club where you feel comfortable, and build comradery with other beginners and established members." Katy Edwards, PGA Professional Golfer at Bryn Meadows Golf Hotel & Spa
Do not let barriers get in your way
2018 is being seen as a defining year with events, participation initiatives and coaching activities being delivered to encourage more ladies to take up the game.  At Bryn Meadows, we understand the barriers that may stop some women from just having a go.
"The biggest challenge is just getting started.  Some women can convince themselves that they do not have any hand-eye coordination.  If this was true you would struggle to do basic things like eating and drinking.  It does not take long to gain confidence in hitting the golf ball." Katy Edwards, PGA Professional Golfer at Bryn Meadows Golf Hotel & Spa
One of the other factors that is regularly mentioned is time.  With busy lifestyles you often hear people say that they cannot spend hours away from home.  You do not have to play a full 18 holes, it could be crazy golf, time at the driving range or even learning skills in a golf simulator.
"Ladies have said to me before even walking through the door, they worry about where to park and if a member will approach them and start questioning them, if the golf team will be friendly, and even if they are welcome.  Of course once they are through the door, these worries are quickly forgotten."  Tasha Gobey, PGA Professional Golfer at Bryn Meadows Golf Hotel & Spa
After a working week or keeping a household, spending four hours on the golf course cannot always be justified, so it becomes about fitness and health.  Golf is a moderate aerobic activity and therefore will have beneficial effects on physical health, mental health and general wellness.  The walk on our golf course takes on average four hours, which means you can burn 1,500 calories and do about 10,000 steps which is about 4-5 miles.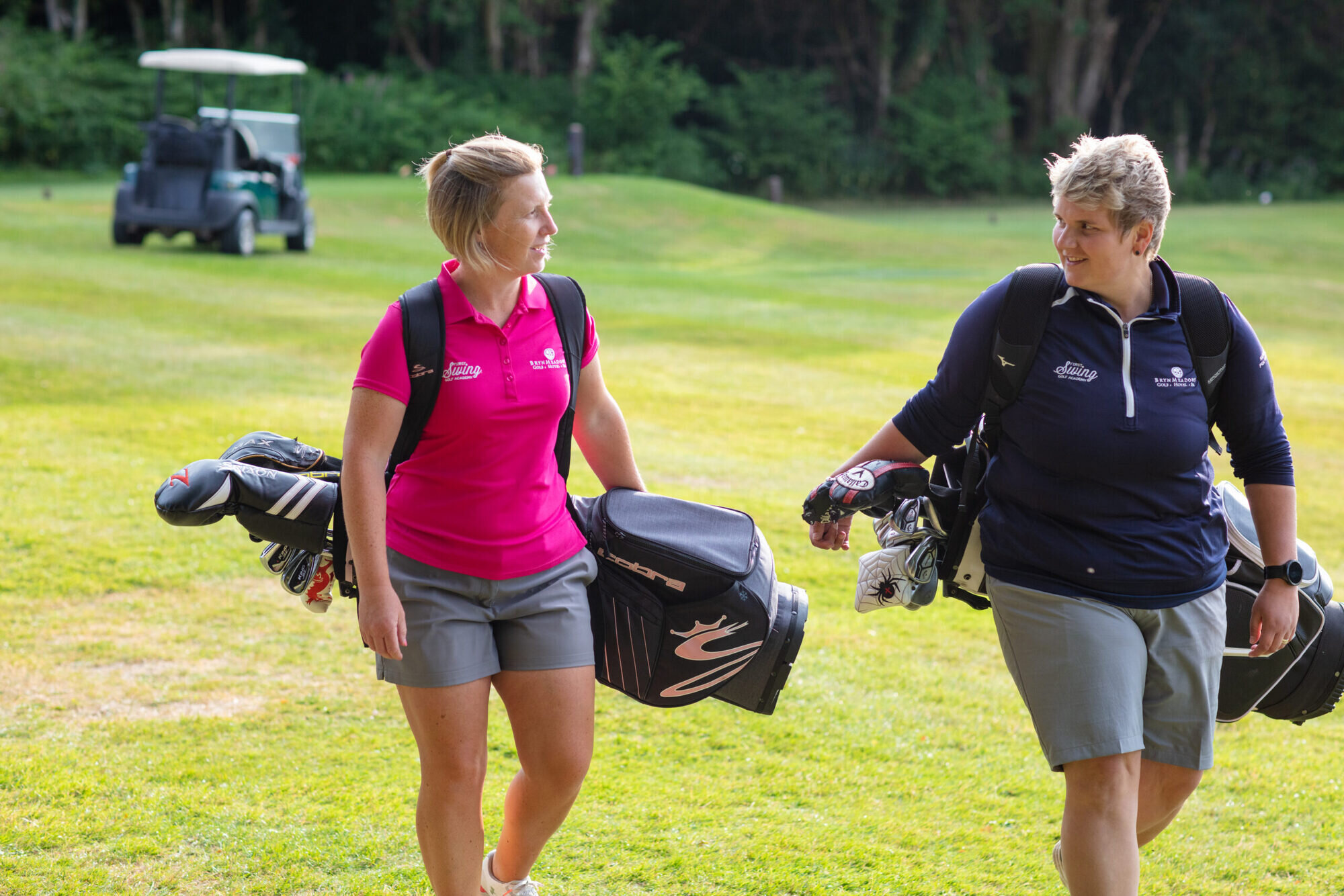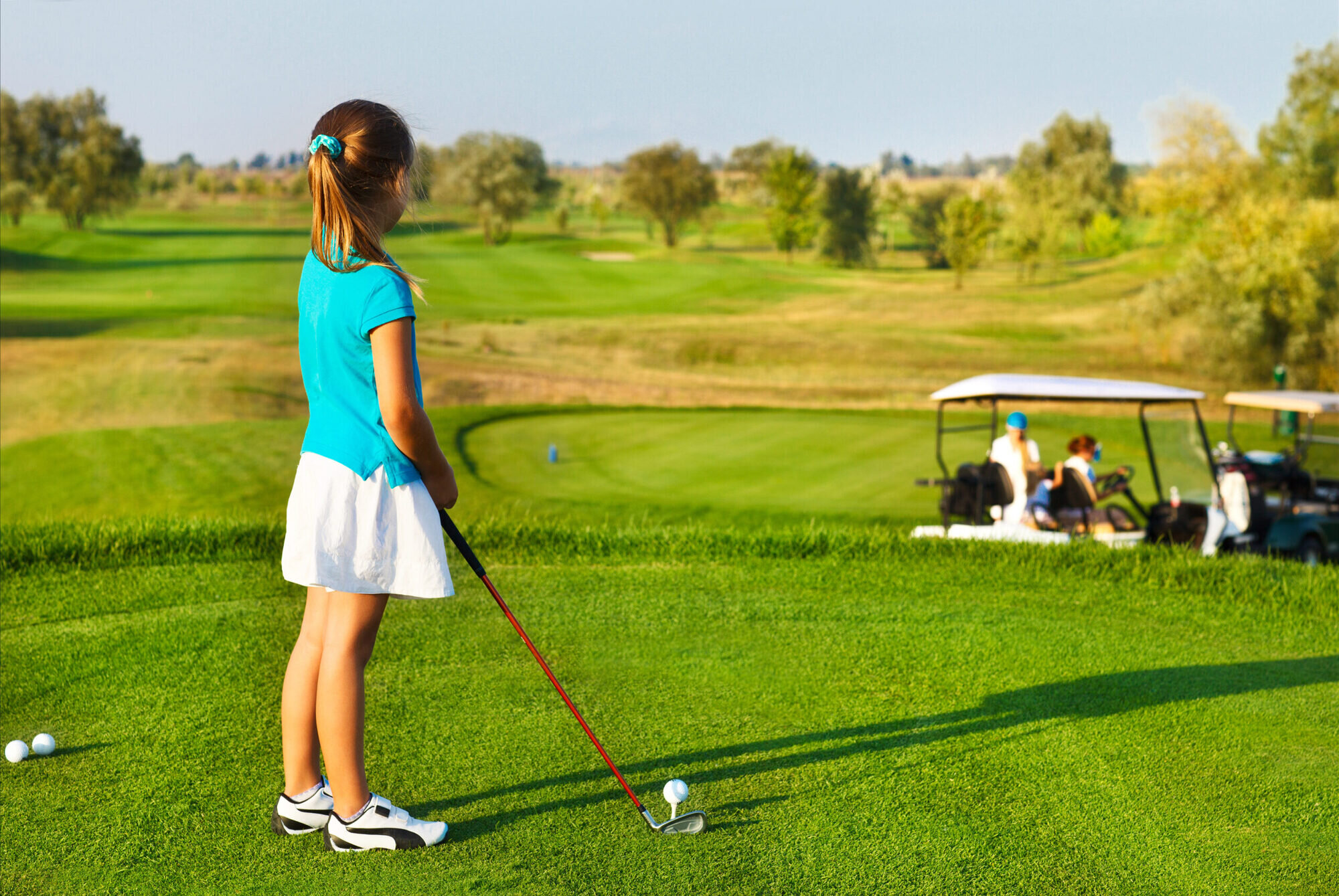 Beginner's ladies lessons
Coaching is available on an individual basis or a weekly group lesson. These are held on our First Swing Academy Course or during poor weather in our Indoor Putting Studio or state of the art Golf Simulator. To encourage ladies and girls to start, the first lesson is free of charge. The ultimate aim is to get as many ladies as possible to graduate from lessons to, and playing the Championship Course.
Find out more
Girl's golf