Aside from setting a date, one of the first decisions you will need to make is where you want to get married. With so many options available, finding the perfect wedding venue can be both exciting and overwhelming. Whether you want a rustic celebration or a traditional ceremony, your venue needs to meet your budget, accommodate your guests and make your dreams a reality.
So, if you want some advice when making this big decision, keep reading. Our step-by-step guide includes everything you need to consider before you say "I do".
1. Budget
Before you start looking at potential venues, you need to set a wedding budget. Whilst this can be a daunting task, setting a budget will ensure you properly prioritise your spending. We recommend splitting your budget into wants and needs. This way, you can make more informed decisions about essential areas of your wedding, such as the venue, catering and entertainment options, without overspending on unnecessary items. Despite being stressful at the time, setting a budget can help you to avoid financial stress further down the line, allowing you to fully enjoy the wedding planning journey.
At Bryn Meadows, we understand that it can be difficult trying to find the perfect venue on a budget. That's why we have a number of wedding packages available. Our packages have been designed to save you the time, stress and money of individually organising each element of your wedding.
2. Capacity
From large celebrations to small gatherings, capacity plays an essential part in choosing a wedding venue. After all, you want to make sure the venue can comfortably accommodate all of your family and friends, without it feeling too cramped or too spacious. When putting together your guest list, it's important to remember that how many guests you invite will have a direct impact on your budget. The longer your guest list, the larger the venue. Not to mention the more catering and accommodation you will have to consider.
It is perfectly understandable that you want all of your loved ones there on your special day. To help make this happen, we have a selection of wedding suites within the grounds. With stunning views over the surrounding countryside, our suites can seat between 50 and 300 guests.
3. Location
Once you have an idea of your budget and guest list, you can finally start looking at wedding venues. The location sets the stage for your special day and will contribute to the overall experience for you and your guests. However, the location can also have practical implications, especially if you are thinking of having a destination wedding. When choosing the right location, it's important to think about transportation options, guest proximity and local amenities. By taking all of this into consideration, you should have no problem choosing a location that matches your vision, as well as the practical needs of you and your guests.
For a beautiful countryside venue, look no further than Bryn Meadows. Surrounded by rolling hills and running streams, our venue provides the perfect backdrop for wedding photographs. We can even accommodate an outdoor ceremony, making it the perfect location for a summer wedding.
4. Theme
Whilst you might find your dream venue, a theme allows you to add personal touches. Whether you prefer vintage elegance or modern minimalism, the theme you choose will influence how the venue is decorated to meet your style. Even if you don't have a name for your theme, having a vision will ensure that every aspect of your wedding aligns. From the invitations to the flowers to the table settings, a theme is key to bringing your dream wedding to life.
At Bryn Meadows, each of our suites is classically modern. Acting as a blank canvas, we allow you to really make the space your own. We even have connections to companies that can supply chair covers and room decorations, making sure our suite reflects your wedding style.
5. Catering
If you are struggling to choose between venues, catering could make all the difference. Whether a venue offers in house catering or allows external vendors, you want to create a memorable dining experience for your guests. The best case scenario is finding a venue that has flexible catering options, as this will ensure the food and beverages align with your vision. By arranging food tasting in the lead-up to your big day, you can curate a menu that perfectly complements your wedding day.
Our team of award-winning chefs are here to cater for your every need. Whether you want a delicate buffet or a traditional roast, we can prepare a delicious spread for you and your guests to enjoy.
6. Entertainment
No matter how big or small your guest list is, there are sure to be some people at your wedding who cannot wait for the evening entertainment. From a DJ to a live band, the right entertainment can elevate the overall experience. That's why it's crucial you assess the space available for entertainment purposes. Making sure the right venue has a dance floor, sound system and stage will make sure that you and your guests can dance the night away. If you want your wedding to be a night to remember, it can also be worth asking if the venue has any noise restrictions in place.
With our resident DJ, you and your guests are free to dance into the night. Whether you prefer pop anthems or jazz ballads, we can prepare a playlist of all your favourite songs. Our chefs can even prepare canapes for guests who work up an appetite throughout the evening.
7. Accommodation
While your main focus will be on the ceremony and reception, it's also important to think about where your guests will stay before and after the event. Choosing a wedding venue that offers onsite accommodation can make it significantly easier for your guests to enjoy the celebration, without worrying about any travel logistics. Consider the pricing, proximity and amenities to choose the best accommodation for your guests, allowing them to fully immerse themselves in the wedding party.
As a four star resort, we have a number of luxury rooms. When you book your wedding date, we will provisionally hold up to ten rooms for your guests. So, after a long night of celebrations, your guests will wake up to beautiful views of the surrounding countryside and a delicious breakfast served in our restaurant.
8. Package deals
No one said that wedding planning was easy. However, there are options available if you want to save yourself time, money and stress. When looking at wedding venues, ask what packages they have to streamline the planning process. These packages often include the venue, catering and decor. Some even offer additional perks like photography and entertainment. Wedding packages are designed as an affordable solution, so that you can still have your dream wedding without breaking the bank.
At Bryn Meadows, we have a number of all-inclusive wedding packages available. Our packages include everything such as a drinks reception, evening catering, morning breakfast, entertainment and a complimentary bridal suite.
Why choose Bryn Meadows?
There are a number of reasons why couples choose to get married at Bryn Meadows. As an exclusive hire venue, you and your guests can enjoy the privacy and intimacy of having the entire venue reserved for your celebration. This exclusivity can create a more intimate wedding ceremony, allowing you to fully immerse yourselves in the moment. Additionally, we can provide a dedicated wedding planner to guide you through every step of the process. They will be there to ensure your big day goes off without a hitch.
With our stunning location, exclusive suites, flexible catering, luxury accommodation and committed team of wedding planners, we can provide an exceptional experience that exceeds expectations. For a day to remember, choose Bryn Meadows as your wedding venue.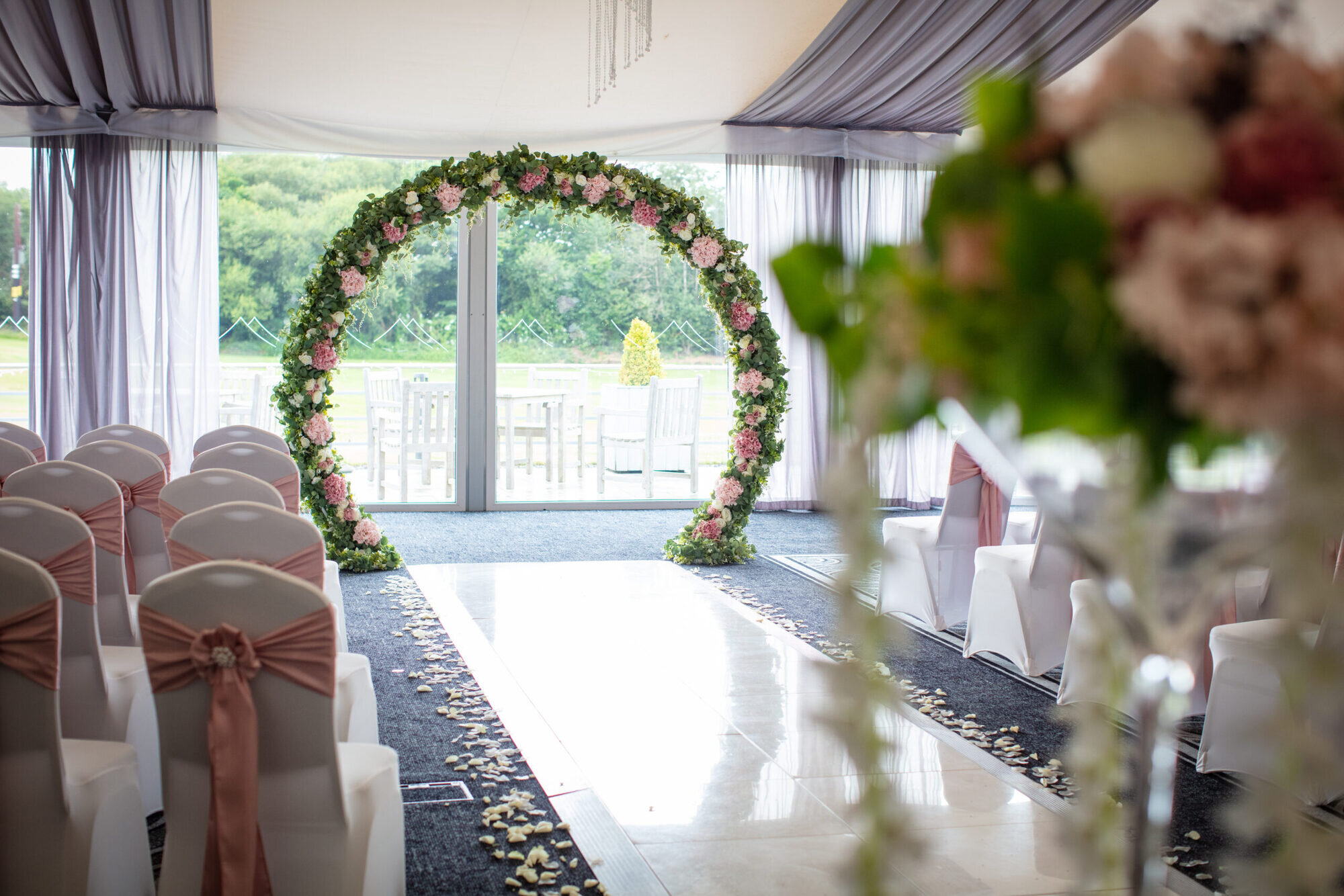 Are you ready to make a final decision?
Choosing a wedding venue is a big decision, with a number of factors to take into consideration. However, we hope you now feel confident in making a decision that aligns with your vision, budget and priorities.
If you think Bryn Meadows could be the perfect venue, get in touch. We can arrange a date and time for you to visit the resort, so that you can envision how your wedding will look and feel in our stunning location.
Get in touch